Isolated areas: Light at Home Palawan will supply electricity with photovoltaic systems to about 5,000 people in rural areas without grid access
Sustainable service: Light at Home's service model and its professional management will guarantee the long-term consolidation of clean energy supply through acciona.org Foundation Philippines
Public-private collaboration: The Spanish Agency for International Development Cooperation (AECID) finances the project, which implements a social solution that is sustainable over time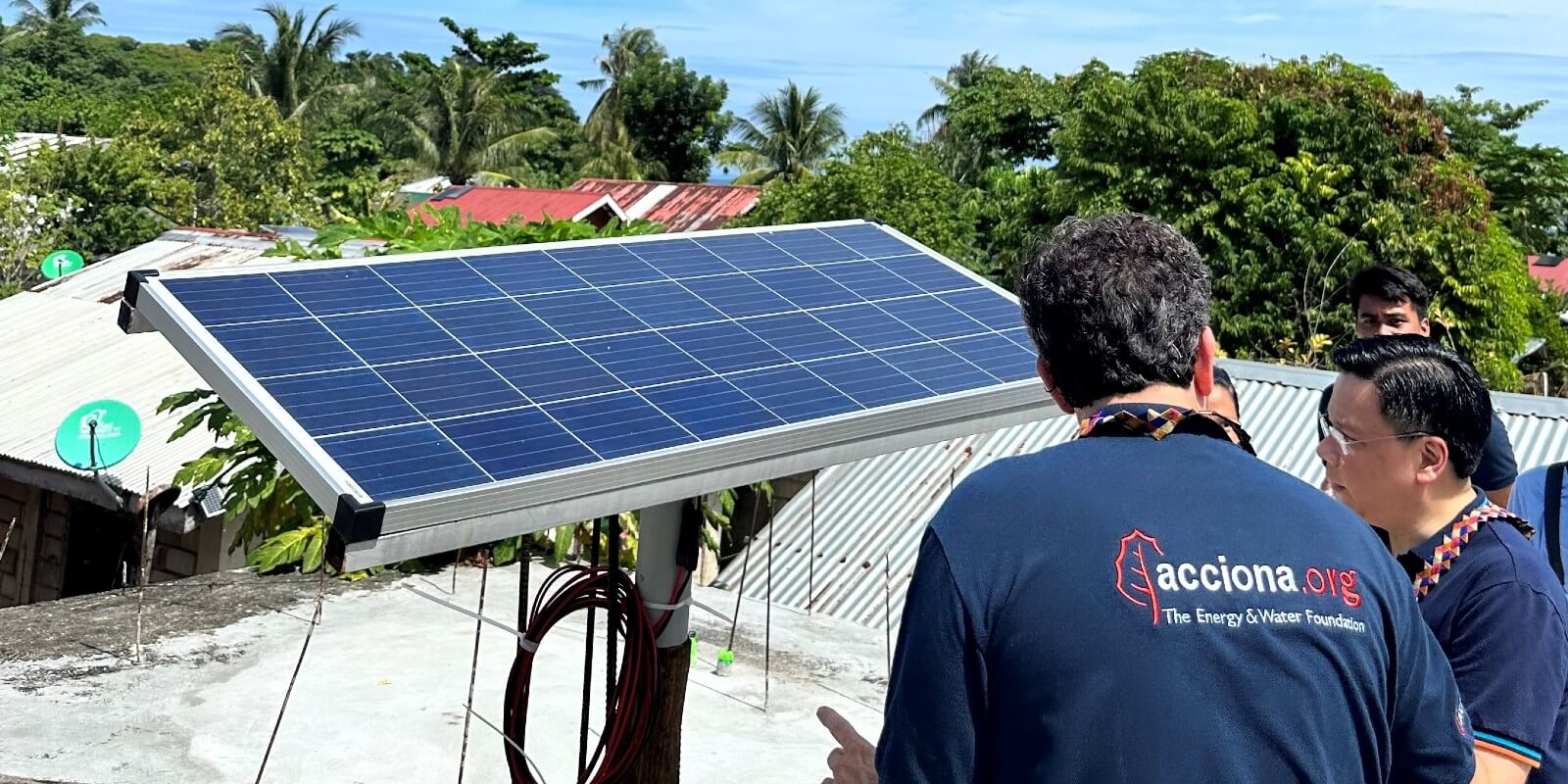 acciona.org, ACCIONA's corporate foundation, and Ayala Foundation, with most of the funds coming from AECID -the Spanish Agency for International Development Cooperation-, have begun a project in the province of Palawan (The Philippines) to provide solar home systems to households with no access to the conventional electricity grid.  
The Light at Home Palawan project will provide electricity to around 5,000 people in 1,200 households and 20 community service centers, such as schools and health centers, via a non-profit social service provider model that guarantees long-term supply through the participation of the communities it benefits. It is implemented with the support of the companies Ten Knots Philippines and AirSWIFT.
This public-private collaboration project is a part of acciona.org's global Light at Home initiative, a systematic rural electrification program aligned with the UN's Sustainable Development Goal 7, universal access to energy, reaching communities where the installation of electricity via the conventional grid is not planned due to their remote location. AECID, acciona.org, and Ayala Foundation together bring the institutional, managerial, technical, and economic resources needed to develop the project, with an action plan that ACCIONA's corporate foundation has already implemented in Peru, Panama, Mexico, Chile, Ethiopia and the Philippines itself, benefitting more than 100,000 people.
The Light at Home Palawan project is based on the involvement of local communities, including both the people who benefit directly and local entrepreneurs who create an ecosystem of support and enterprise.
The maintenance of the installed solar home systems is supported by small user assistance centers managed by local entrepreneurs, which provide technical assistance, maintenance, and the sale of adapted appliances. acciona.org Foundation Philippines, the local implementing partner, will remain the service provider with a social focus to ensure affordability and sustainability. This supply model ensures long-term service provision.
With each solar home system installed by Light at Home in Palawan, a household of four can use more than eight hours of electricity per day to charge their cell phones and use compatible electrical appliances such as fans, radios, television sets, or small adapted refrigerators. As laid out in UN SDG 7, access to electricity service has a direct impact on education, the local economy, the strengthening of women's role, the health and well-being of families, and the protection of the environment, laying the foundations for sustainable progress.
The people who will benefit from this project belong to the poorest communities in the province of Palawan. This energy access gap worsens the already vulnerable state of these communities in a country where the poverty rate increased from 16.7% in 2018 to 18.1% in 2021, according to the Philippine Statistics Authority (PSA).
SCALABLE MODEL
acciona.org and Ayala Foundation launched their first pilot project in 2022, Light at Home El Nido, in the municipality of the same name, in the north of Palawan Island. It was implemented with the support of Ten Knots Philippines, AirSWIFT, ACEN, and Huawei and in coordination with the Local Government of El Nido and Barangay Sibaltan. This initiative allowed the service model to be adapted to local requirements. Light at Home El Nido already benefits almost 130 households and community centers and has been expanded recently by acciona.org to 400 additional households and community centers in Barangay Sibaltan and Barangay Teneguiban.
Through the support from AECID, acciona.org Foundation and Ayala Foundation will now be able to scale up the Light at Home model to promote universal electricity services to areas which are not expected to receive electricity access by conventional means. The implementation of this model by acciona.org in other countries has laid the groundwork for public operators to promote similar actions to advance the goal of providing coverage to the entire population.
As of 2017, PALECO, the distribution utility in charge of electricity supply in Palawan, has managed to connect 59% of the homes in the 289 barangays in its coverage area that are considered accessible, but connection to the distribution networks in 81 other barangays is considered unfeasible. Currently, households are finding provisional solutions based on the use of diesel generators, a polluting and hazardous alternative. Nationwide, there are still over one million unserved households with no access to electricity.